ISPM 15
Wood is a common packaging material used in domestic and international shipments. There are many rules and regulations that have been established regarding international export and import, and if your business is going to be exporting to other countries using wood in your packaging material, then you should become familiar with ISPM-15 because you will have to adhere to it before your shipments will be approved for exportation overseas. These detailed regulations are the main reason we take care of export crating and logistic services for business throughout the United States.
What is ISPM-15?
ISPM-15, which stands for International Standards for Phytosanitary Measures # 15, is a regulation that is enforced in order to prevent insects and diseases from being spread through the use of wood in certain shipments. All international packaging materials such as crates, pallets, and boxes that are constructed of solid wood packaging measuring a thickness of 6mm or greater must adhere to ISPM-15. It doesn't matter if the packaging is made of hard or softwood, as all types of solid wood packaging must abide by this regulation, or it will not be approved for shipment to the expected destination. Engineered or manufactured panels such as plywood, OSB, particle board, etc are exempt from the requirement since the manufacturing heat process kills off insects.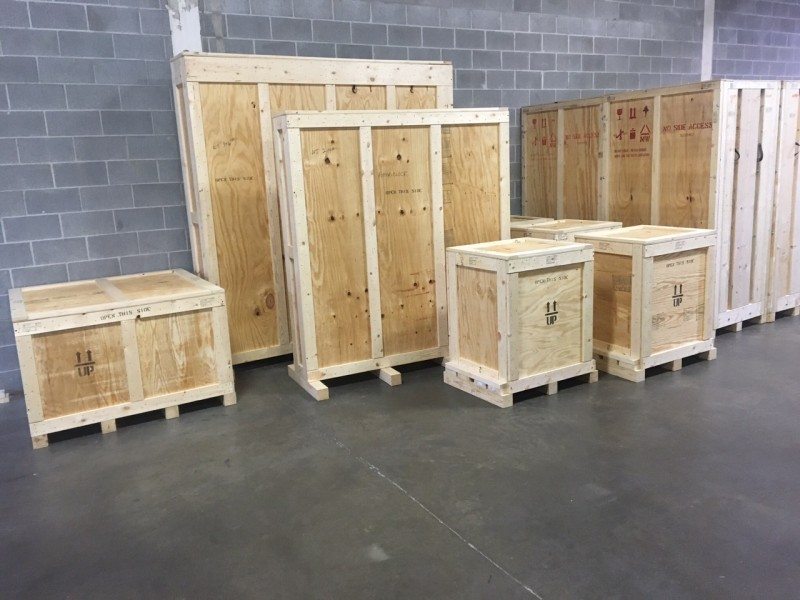 What Does ISPM-15 Entail?
ISPM-15 requires that all goods that are shipped in wood packaging that measures 6mm or thicker be either fumigated with the pesticide Methyl-Bromide or heat treated with a very high level of heat. Either method is acceptable, as long as the shipment is appropriately IPPC stamped afterward, which certifies that the shipment has gone through the appropriate process of decontamination.
As you can see, ISPM-15 can be a confusing or overwhelming process, especially if you've never experienced it before. If your business is going to be exporting shipments overseas in wood packaging on a regular basis, then it would be wise to hire a packaging house like Kaiser & Johnson to handle all of your international shipments. ISPM-15 isn't the only regulation that must be followed when shipping packages to other countries, as there are many more guidelines depending on the circumstances. If you're shipping products to the military, that is another in-depth process that must be adhered to separately, in addition to the detailed customs forms that vary from country to country.
Kaiser & Johnson has over three decades of experience handling all types of international shipments for numerous clients. Kaiser & Johnson works with freight forwarding experts involved in shipping packages overseas. It doesn't matter if they're military-related or some other type of shipment, Kaiser & Johnson has experience handling it. Instead of undergoing the grueling process on your own when shipping packages overseas and possibly missing steps in the process, or completing a form incorrectly, why not allow Kaiser & Johnson to handle it for you? Not only will hiring Kaiser & Johnson to handle all of your international shipping needs ensure that 100% of your shipments reach their destinations on time, but you will have time freed up to handle other aspects of your business. You will have more time to do what you do best, whether that's marketing, recruiting more clients, or some other business matter.
Contact Kaiser & Johnson for More Information on ISPM-15
So, give Kaiser & Johnson a call today at (314)664-6768 so they can start managing all your complicated international shipments. You will soon wonder why you hadn't heard of Kaiser & Johnson sooner because you will experience immediate relief and appreciation when you witness the amazing work that Kaiser & Johnson does.